Happy New Year's Eve! I'm chugging coffee, munching on Shirley's coconut chocolate chip cookies and snickering at this old New Year's Resolution list I found in one of my teenage notebooks. I can only assume I was in my early teens when I wrote this list because of the roundness of the letters. My mother always teases me that every year my New Year's resolution was to "get a tan", and I'm sure she's right, but at least according to this list I've always been smart about protecting my face! (my decolletage…well, that's another story…). The little smart ass note at the bottom is pretty hilarious too, since I've always been an oversharer my entire life, and have always WANTED people to read my blathering. Emotionally scarring–ha!
As is my yearly tradition, I'm gonna re-cap what I did this year. Let's see how fast I can make this happen. What did I do in 2014?
January


NOT MUCH, January. Some eyeshadow experimentation.

Corinne coaxes me into getting my first shellac manicure, and now I'm HOOKED. 2-3 weeks of perfect nails without chipping for 20-25 bucks…worth it.
–arrival of a late Christmas present, the Sony camera–trust me kids, stick with Canon. Never again, Sony.
February
– became hooked on the books of James Lee Burke (damn fine writer)

Took a decent self-portrait with the Sony…? Is that notable?

The infamous failed perm that turned into a negative Yelp review (penned mostly by Christopher) that then turned into a second GOOD perm!

Josh did this to his face on Valentine's Day (shameless).
March


Stylist Erika gives me a second wonderful and fabulous perm, and I have bouncy curls for MONTHS. It's just now starting to finally go straight again. Should I get a third perm?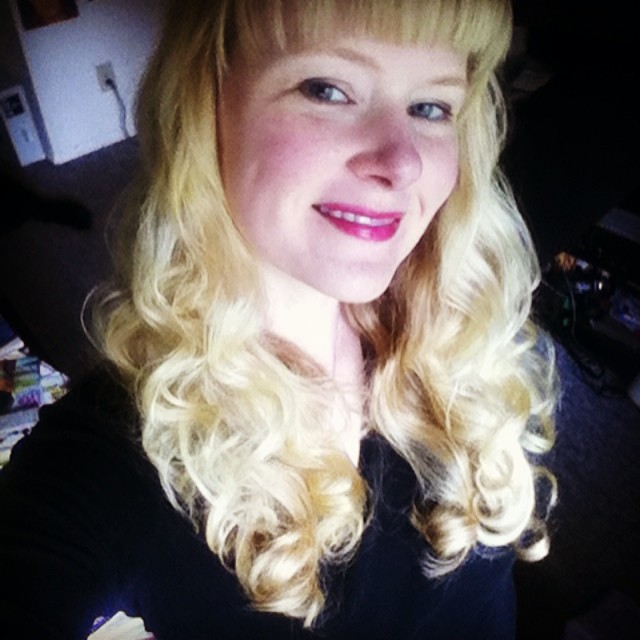 Look at those curls, siggggh. Unfortunately this also kicks off Christopher bitching and moaning about how I'm improperly styling my bangs. I can't wait for him to visit in two weeks and let HIM take a crack at my hair! Bwa ha ha, it ain't easy.

First nature walk of the year with Joshy and the girls.

Met up with Brenna and family for a delicious breakfast, and snapped this flattering photo of brother and sister. Maw.

Another nature hike with my furry family.

Started the Holly Woodlawn painting.

Felt good enough about all my hard work exercising to post a totally unedited bikini picture to Instagram. Celebrate!

Fun reunion with all of our old co-workers. One of our co-workers was diagnosed with brain cancer around the time we bought our house, had surgery, and is currently in the middle of an impressive recovery.

Met up with an old old old old blog friend Emilio. I love meeting blogfriends in real life!
April
– my brother gets me GOOD for April Fool's by announcing his "wedding". I fell for it, but subsequently didn't fall for ANY of the lies my co-workers told me the next day. Fool me once!
– got hired onto the job I wanted full-time
– Kurt Cobain's death turned 20 (sigh)

The Electric Palette comes into my life.

Joshy and I go to the Tulip Festival, which was beautiful. Our eyeballs suffered for the next couple of days though. Holy pollen, Batman!

We head over to Populuxe to look at some art, and discover the joys of Peruvian brisket sandwiches. Mmmmmm.
– I dedicate my face to eyelash extensions FULL time (quite the upkeep) (WORTH IT)

My Old Man turned 40, and we celebrated by going out to the best sushi restaurant in Seattle.

Easter dinner with my Broad and Josh's family.

Having a Princess Moment on Easter Sunday.
May


Mumsie flies over to dogsit while we…

…spend 9 days in Kauai! Oh Kauai! Love ya. Not as good as Maui but still fabulous.

I'd do it again!

Christy moves to Seattle and joins Josh and Brenna and I at the Color Run.
June

Let the bike riding begin! Turns out Make-Up Forever lip stain WILL last through a rigorous bike ride.

Fun at Populuxe with Christy.

Discovered Zenni Optical. Now that I have cute glasses, I wear them more frequently.

We plant our very first ground garden, and have a ridiculous amount of success. Next year: not quite so many tomato plants, bwa ha ha.

Corinne transitions from Normal Person with One Cat to Full Fledged Crazy Cat Lady with Five Cats…but I still love her. Barely see her any more, but still love her.

Joshy runs the Rock and Roll Marathon, I take a taxi to the finish line to meet him and we watch Sir Mix A Lot perform! What a Seattle-ish moment!
July

Josh and I celebrate the 4th of July like a couple of geeks in our front yard…by ourselves.

I dress like this, because I can!

Enjoying bike rides.

First of FOUR camping trips in 2014. I'm so proud of us.

Had a successful backyard barbecue.

Josh and I visit The Locks in Ballard.
August


Sailing adventure with Josh's parents and the girls. I'd do the sailing again in a heartbeat…but without the dogs, next time. Once was enough for them!
– Robin Williams dies, and everyone is sad about it.

Camping trip number two.

Birthday dinner with the Broad.
September


Camping trip number three! We were rained on that time. So PNW.

Josh and I attend Bumbershoot, and he out-dances many, many stoned teenagers.

Little Miss Ronia's 5th birthday party. Loooove.

Final camping trip, which required the most hiking, featured the most whining (from me), but was probably the most beautiful too.

My little brother got married! I'm so happy for him. Love is good.

The last time I saw Sally. RIP Sally dog, you were one special girl.
– we discover our DREAM HOME…and then have to wait another month and a half to make it a reality.
October
– I start doing Scary Movie Month Reviews, but (predictably) get bored after a few.

Sally dies, and both of my parents and my brother are there when she is put down. Maw.
– I get really into writing a book about DIY beauty recipes but have to abandon it when we start packing to move to the New House

Josh and I dress up as Old People/Our Future Selves for Halloween. He won first prize at the costume contest at his job…

…and everyone said I would have won at my job if I hadn't had to go home about 20 minutes before it started because I was suffering from such an awful cold. Heigh ho! Still had Good Times!
November


Josh and I celebrate closing the deal on the New House with Thai food. We're "grown ups" now! More or less.

Sold Joan!

We move into the New House! Hip Hop Hooray!

Celebrate Christy's birthday and see some old party friends.
– one of my childhood friends' mother dies suddenly. Very sad.

All of this weird, white stuff suddenly appears all over everything outside.

Thanksgiving with Josh's family and my Broad.
December

One of my bosses talked me into taking my birthday off from work, and I'm so glad I did because I had a truly fabulous birthday this year.
– discover "Advanced Style" (a must-see!)

Owen invites me to participate in his studio's annual open house art show, which I did gladly!

Josh and I go to the Wooden Boat Center and check out his dad's boat. It was a gorgeous sunny day on Lake Union.
– we go see "Birdman", which is essentially like having a panic attack for an hour and a half but WORTH IT if you're emotionally up to the task.

Walkies on the beach.
…and finally, Christmas in Idaho! Which I still have to blog…at some point…when I have the time.
So 2014! There you go! This year went by SO FAST I can't even believe it myself, and I just reviewed the whole thing. One fabulous vacation, one major life change in the form of a New House, and a lot of highs and lows in between. Mostly highs.
So! I have a couple of New Year's Resolutions. Christopher calls them "First World Problems", and of course he's right, but nevertheless…I have spent the last 4 years heavily engaged in some so-called "feminist" websites (that shall go un-named) and my New Years resolution is to stop reading them. Entirely. It's become hate-reading by now and in this stage of my life, I need to focus on positive things. More Art! More Art! WAY MORE ART! And also…I want to finally go to New York in 2015, because I've never gone, and I know that I will LOVE IT. So that's it! Hello 2015, hello to more art and positivity yeah! Thanks for watching, blog-logs. You may not comment, but I see you there, and I appreciate it.